Understand the Whispir user interface
Home page
When you log in to Whispir the first page you see is the Home page. This is typically the View My Messages page but it can be different from user to user, depending on what they've set in their Whispir profile. See Change the default Home page.
You can click the Whispir icon at the top of any page to open the Home page for the currently active workspace.
If you've just logged in to Whispir (and there's no active workspace just yet), the Home page you see is for the last workspace you used.
Workspace toolbar
The Workspace toolbar at the top of the Whispir window lets you access workspaces and their functions on the Workspace menu.
Note: You can only access functions on the Workspace menu that are permitted by your Whispir role.

The currently active workspace is highlighted on the Workspace toolbar.
You can change workspaces by:

clicking any other workspace currently on the toolbar
or
clicking the workspace selector button on the toolbar and selecting a different one.

See Change your current workspace.

The

Workspace

menu, by default, shows the most commonly-used commands. But you can

customise

it to show or hide any of the available commands:
Click

Customise

menu at the bottom of the menu.
Select or clear check boxes beside commands.
Click

Save

.
Note: To temporarily show menu commands that are currently hidden click More below a group on the menu.
User Options toolbar
The User Options toolbar contains links for up to four functions: Profile, Activity, Notifications and Administration. Depending on your Whispir role and how the company administrator has configured the toolbar you may only have access to the Profile function.
Click a link to open it in the sidebar.
Click or on the right side of the toolbar to hide or show the sidebar.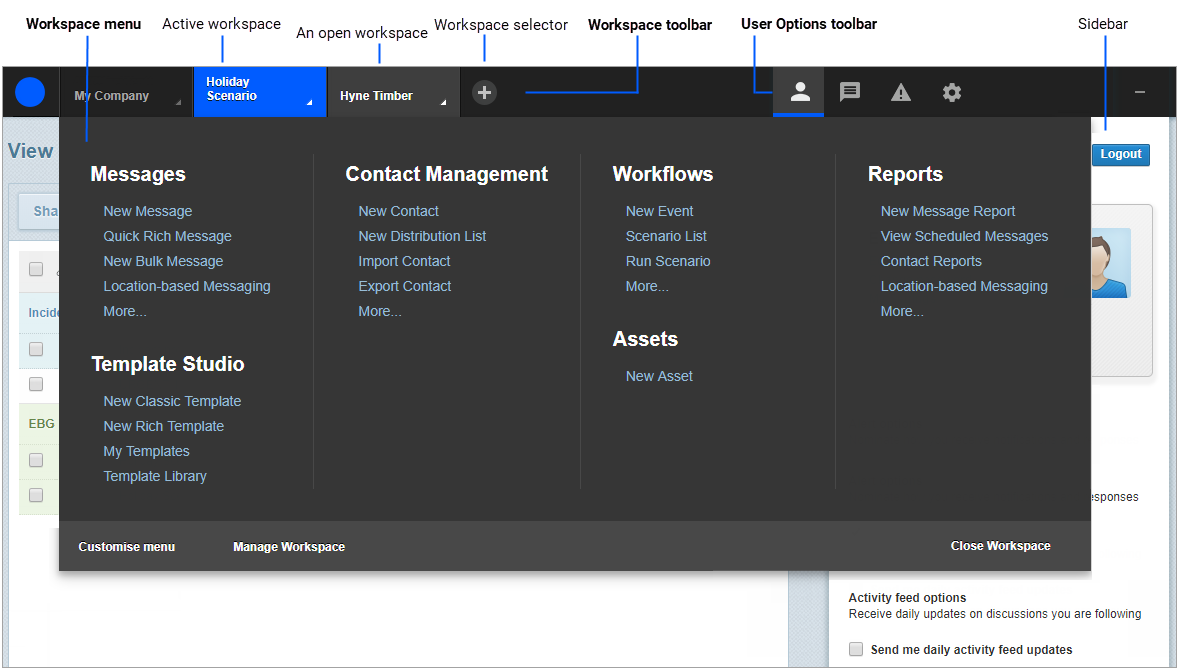 Related links