Changes to the Workspace menu in the 2018 Brenner release
We've redesigned the Workspace menu to make it easier for you to find the commands you need.
What we've changed
The most obvious difference? Our fresh new look!
We've

reorganised

the menu commands into more logical groups and renamed some of them to make it clearer what they're used for.
We've removed the four Quick Links (Messages, New Message, Run Scenario and Contact List) that were on the left side of the menu. But you can still easily find those commands on the new menu.
The

Customise

menu link is still there, letting you set up the menu to show just the commands you want.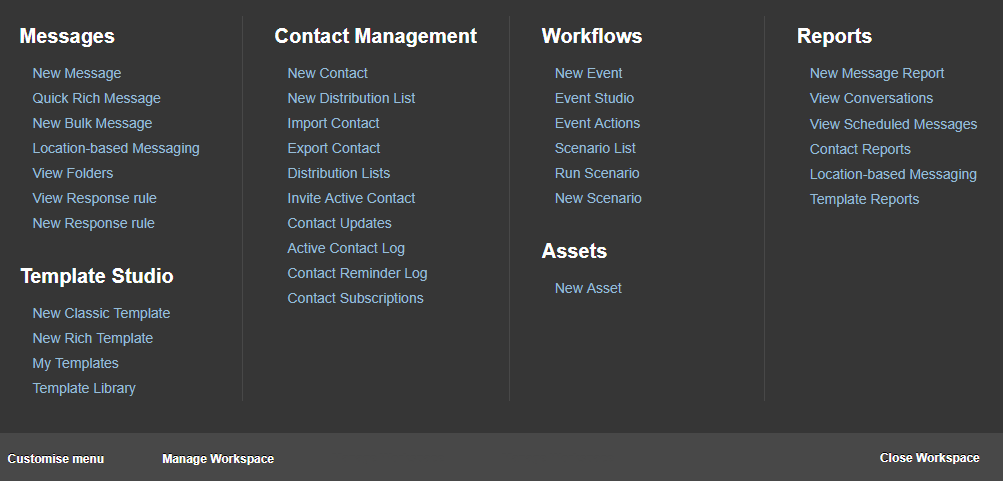 View the old Workspace menu:
This is what the old menu looked like: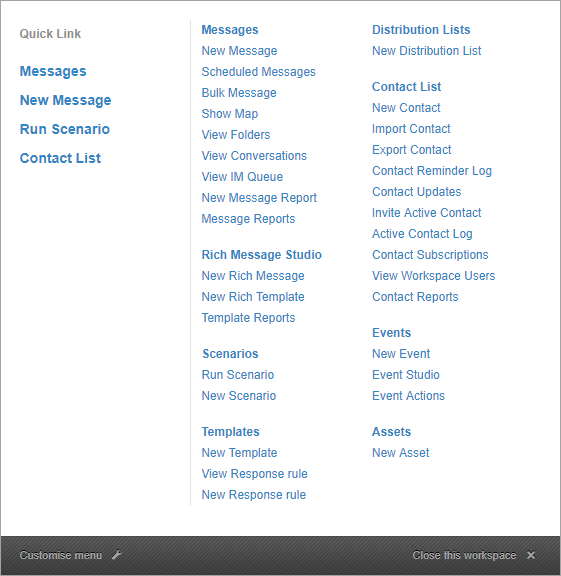 Find out how we've rearranged the menu:
| Original menu commands | Where to find the commands on the new menu | Click to open … |
| --- | --- | --- |
| Heading: Messages | Heading: Messages | View My Messages page |
| New Message | New Message | New Message page (for 'classic' messages) |
| Scheduled Messages | View Scheduled Messages (now under the Reports heading) | Scheduled Items page |
| Bulk Message | New Bulk Message | Bulk message page |
| Show Map | Location-based Messaging | The map page |
| View Folders | View Folders | (The Folder View page opens at the last folder you had open) |
| New Message Report | New Message Report (now under the Reports heading) | Report Details page |
| Message Reports | New heading: Reports | Message Reports page |
|   |   |   |
| Heading: Rich Message Studio | My Templates (now under the Template Studio heading) | My Templates page |
| New Rich Message | Quick Rich Message (now under the Messages heading) | New Message page (in the Rich Message Studio) |
| New Rich Template | New Rich Template (now under the Template Studio heading) | New Template page (in the Rich Message Studio) |
| Template Reports | Template Reports (now under the Reports heading) | Report Details page |
|   |   |   |
| Heading: Scenarios | Scenario List (now under the Workflows heading) | Scenarios List page |
| Run Scenario | Run Scenario (now under the Workflows heading) | Run Scenario dialog |
| New Scenario | New Scenario (now under the Workflows heading) | New Message page |
|   |   |   |
| Heading: Templates | New heading: Template Studio | Template List page |
| New Template | New Classic Template | Template page (for 'classic' templates) |
| View Response rule | View Response rule (now under the Messages heading) | Response Rule List page |
| New Response rule | New Response rule (now under the Messages heading) | Response Rule page |
| (not applicable) | Template Library | Template Library page (in the Rich Message Studio) |
|   |   |   |
| Heading: Distribution Lists | Distribution Lists (now under the Contact Management heading) | Distribution list page |
| New Distribution List | New Distribution List (now under the Contact Management heading) | New Distribution List page |
|   |   |   |
| Heading: Contact List | New heading: Contact Management | Contact List page |
| New Contact | New Contact | New contact page |
| Import Contact | Import Contact | Import Contacts page |
| Export Contact | Export Contact | Report Details page |
| Contact Reminder Log | Contact Reminder Log | Contact Management Log Details page |
| Contact Updates | Contact Updates | Contact Update Reminder page |
| Invite Active Contact | Invite Active Contact | Invite Active Contact page |
| Active Contact Log | Active Contact Log | Contact Management Log Details page |
| Contact Subscriptions | Contact Subscriptions | Contact Management Log Details page |
| View Workspace Users | Manage Workspace (now located on the bar at the bottom of the menu) | [workspace name] page |
| Contact Reports | Contact Reports (now under the Reports heading) | Report Details page |
|   |   |   |
| Heading: Events | New heading: Workflows | Search Events page |
| New Event | New Event | New Event page |
| Event Studio | Event Studio | Event Studio page |
| Event Actions | Event Actions | Event Actions page |
|   |   |   |
| Heading: Assets | Heading: Assets | Assets page |
| New Asset | New Asset | Asset page |
Related links