Configure the Contact API email notification setting
Role: Company Administrator
The Contact API module provides contact management integration with external systems. This allows companies to keep contact details held outside of Whispir in systems such as SAP or Human Resources systems as the source of truth, but periodically import those contacts into Whispir workspaces.
As a company administrator you can use the Contact API Setting (under Company Settings) to set up an automated email to be sent to an email address at the completion of the contact import process. The email outlines the number of records imported, updated, failed and deleted.
Steps
Open the

Company Settings

page (click > Administration sidebar > Company Settings).
In the

Settings

pane on the left expand

Contact Management

and click

Contact API

.
In the

Send Completion Email

field select

Enabled

.
In the

Send Email to

field enter the email address of the person who needs to receive the notification.
Select the

Successful Import

and/or

Failed Import

check boxes, depending on whether emails are required for both success and failure notifications.
Click

Save

.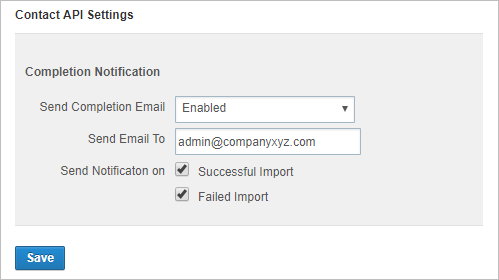 Related links