Use the Activity Log
Role: Company Administrator
The Activity Log displays information about the actions of Whispir users. You can retrieve details for all activities within a nominated date range, and also apply filters to restrict the information displayed based on criteria you specify.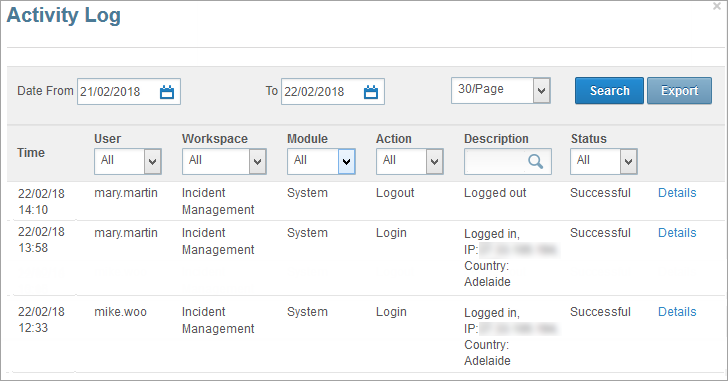 Display the Activity Log
Open the

Activity Log

page (click > Administration sidebar > Activity Log).
Enter a date range in the

Date From

and

To

fields (the date format is dd/mm/yyyy).
Select a value in the

#/Page

field to restrict or expand the number of records displayed per page.

Click

Search

.
The page refreshes to reflect your selection.
Enter text in the

Description

field and click

Search

to retrieve activities with matching (or partly matching) descriptions.
Use the

User

,

Workspace

,

Module

,

Action

,

Description

and

Status

fields to filter activity records further.
Export the Activity Log
You can export the Activity log as a .CSV file.
Open the

Activity Log

page (click > Administration sidebar > Activity Log).
Use the date fields and any of the search filter fields to retrieve the activity records you want to export.
Click .

Follow your browser's prompts to open or save the file. (The process can vary from browser to browser.)
Related links